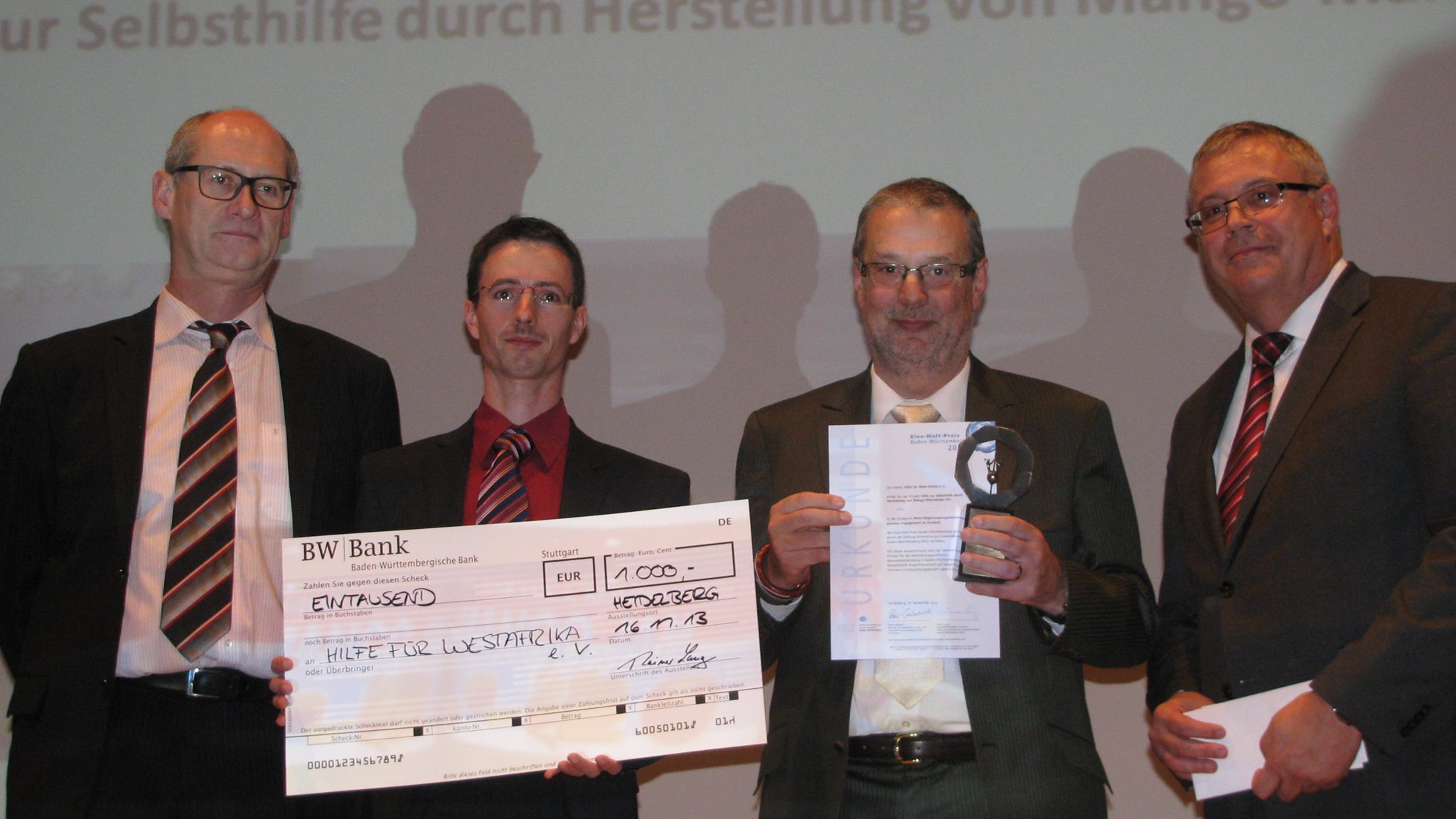 On 16.11.2013, the award ceremony for the prize of One World Foundation for Development Cooperation Baden-Württemberg (SEZ) was held at Heidelberg Castle in the King's Hall.

The welcome speeches were Rainer Lang (Executive Director of the SEZ) and Dr. Eckart Würzner (Lord Mayor of Heidelberg). The award was given for four categories:

- Lifetime (eulogy Dr. Eckart Würzner)
- Children and adolescents (eulogy Dr. Martin Meyer, Porsche AG),
- Non-governmental organizations / private engagement abroad (eulogy Winfried Mengelkamp German Society for International Cooperation GIZ),
- Development Education in Baden-Württemberg (eulogy Dr. Herbert O. Zinell, Secretary of Interior Ministry of Baden-Wuerttemberg).
In each category, there were the 1st, 2nd and 3rd prize. Help for West-Africa was nominated for the award non-governmental organizations / private engagement abroad with the project of marmalade production in the Gambia.

With great tension but also with expectant anticipation we sat (Bastian Steinhilber, Sieglinde and Rainer Kopf) in the hall. After the 3rd and 2nd prize were not called for us we aware that we probably won the first prize. Happy and proud we stood on the stage and accepted the certificate, the check (1,000 €) and the trophy. After a brief interview by the presenter and the flashbulbs at the photo line-up we took cheerfully laid back place in the hall. At the subsequent reception we had many interesting conversations with the opportunity to lead the well-wishers. An exchange of business cards for possible future contacts took place. After we had then done a photo shoot and an interview with a reporter from the South-West press, we were on our way home.
We thank all the assets of the Association as well as the donors and supporters for our work in Africa. Especially with Renate Müller, without her origin idea to build a jam production and without her tireless and determined advancing the necessary activities the winning of the prize would have been impossible.